As a charity, donations and grants play a vital role in making our work possible. Please look at this website to see how your gift would be used and the benefits it would bring. Any gift large or small will make a huge difference.
NORAH's Current Appeal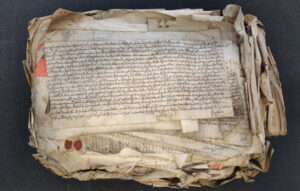 NORAH is currently raising money to help the Norfolk Record Office continue its programme to unlock the fascinating Norwich Consistory Court archive. Covering both Norfolk and Suffolk, it is a treasure trove for family, local and social historians. NORAH is currently aiming to raise £3,000 for the conservation of a bundle of exhibited documents. Once conserved, the documents will be catalogued and available for free at the NRO. Donations can be made online.
Online donations
If you would like to make a donation, please visit our Charities Aid Foundation site.
Send a donation in the post
Cheques should be made payable to the 'Norfolk Archives and Heritage Development Foundation'. Unfortunately our bank will not accept cheques made payable to NORAH. Please complete and return our donation form (NORAH postal donation form, version 2.0, 29 June 2017). We advise that no money is sent in the post.
Leave a legacy in your will
Leaving a legacy gives you the opportunity to continue to enrich Norfolk's archival heritage and have a lasting impact on the work we do to conserve it and make it accessible for future generations. Please contact Jonathan Draper if you would like to discuss your legacy (email [email protected], tel. 01603 222692).
If you would like to let us know that you will be leaving a bequest please contact us with your contact details and we will keep you updated on the work of NORAH.
Donate in memoriam
A donation in memoriam can be a wonderful way to remember a loved one who had a love of Norfolk and its heritage. To make an in memoriam donation or to be remembered in your lifetime you can also sponsor a document in the collections of the Norfolk Record Office which you are passionate about. To discuss this further, please contact us.